memorabilia & Display cases
Lou Scalia's Awards in Davie Florida, offers a large selection of sports memorabilia, league collectibles, jersey display cases and floating display cases, as well as autographed memorabilia from your favorite music and entertainment artists.
Sports Memorabilia Displays
Lou Scalia's Awards is proud to offer high quality unique sports memorabilia! Commemorate your favorite team with a beautifully framed, authentic team photo. Some pieces even include a high quality replica of your favorite team/players championship ring, NFL, NBA or MLB.

Handcrafted in the United States, each sport memorabilia comes with a custom engraved plaque and quality wood frame. Our collection is genuine; you can feel confident displaying our memorabilia in your home or office.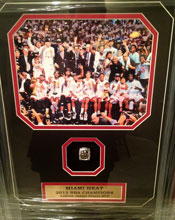 Custom Memorabilia Displays
Create your own custom memory by bringing in your autographed pictures, tickets or jerseys and we will customize a ONE of A KIND piece that you can proudly display and truly cherish your experience for a lifetime.

No matter who you root for, our sports memorabilia is available in the team, color and size of your choosing. Enhance your sport memorabilia collection today.

Entertainment and Music Memorabilia Displays
For the non sport fan we also have countless music memoribila and entertainment collections of many of your beloved artist and movie stars. From your favorite T.V. Shows like I love Lucy to iconic artists like the Beatles, if we don't have it we can get it!

Bring in your concert tickets or any special event and we will customize the memories in a classy frame so you can re-live the experience.

Stop in or call, the options are endless, the quality is unmatched and these collections make awesome gifts. Contact us today or visit our showroom.







Achieving excellence is hard. Rewarding it is easy with Lou Scalia's Awards.